Shepherds: Awakening
Discover the book that thousands of readers around the world just can't put down!
Aisling Shepherd finds herself thrust into a fantastical world where reality is what you make it and the inhabitants are unaware that they're dead. And being fed upon.
Those dark parasites can also see her, and she soon finds herself fighting for her very existence. Can she survive long enough to master her powers and live up to her name? Will she give up everything?
Award-winning, captivating fiction.
Buy now on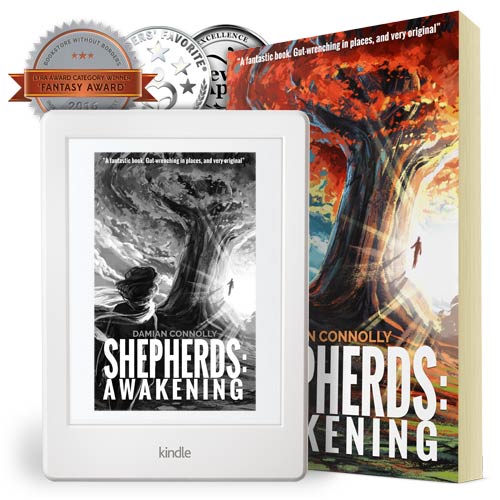 "A fantastic book. Gut-wrenching in places, and very original" Page Morgan, author of The Dispossessed series
"Intriguing and ingenious" -
- Readers' Favorite ®
The concept of Shepherds: Awakening by Damian Connolly is intriguing and ingenious. There's sincerity and other-worldliness in it that kept the story relevant and engaging to me, as Aisling reconnects with her father and learns about the world known as Limbo, as well as her duty as a Shepherd that has been passed down in the family. Following Aisling's self-discovery and learning about her new skills in addition to her responsibility is fascinating. Her ups and downs, her effort to balance her life in the Limbo world, and her life with her mother in the real world kept me wanting to read what happens next.
On the whole, Shepherds: Awakening is a compelling and enjoyable read. I could finish it in one sitting, but decided to prolong my reading to two as I wasn't ready to let go of the story that soon. This is a commendable literary work from Connolly and I'm very interested to see what he will come up with next. To be frank, I'm waiting for a sequel.

"We," he said, pointing to them both, "are Shepherds. We open the door to whatever comes next."
Aisling has always lived in her head, wishing for something more. Something better. But when she finds herself fleeing for her life in a world where reality seems flexible, it isn't exactly what she had in mind.
When her absentee father shows up there, she soon starts questioning her very sanity. But he explains it all. Who they are, where they are, and what the deal is with all the dead people.
And what's trying to eat them.
She has a name to live up to. If she accepts, it'll break her, and she'll have to sacrifice everything. In the end, there needs to be a Shepherd.
All she has to do is open a door...
Winner of the 2016 Lyra Fantasy Award, New Apple Young Adult Fantasy Official Selection, and Readers' Favorite Five Stars Award, Awakening is a unique coming-of-age fantasy for readers who liked Philip Pullman's His Dark Materials, or Neil Gaiman.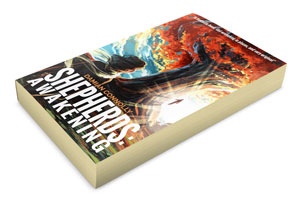 Want a FREE excerpt?
Insiders can get their hands on the first 4 chapters for FREE
I'm in!

"An extraordinary book. I was expecting the usual coming into her newly discovered powers formulaic story and instead I found this to be an amazingly emotional and captivating tale.
A delightful story, beautifully written and full of warmth.
Strong characters, together with a unique setting made for a compelling read.
Highly recommended." Mandy Walkden-Brown, Goodreads


"I simply love this book. I did not want it to end... Unique and engaging - easily five stars."


"I couldn't put it down... Completely intriguing. Damian Connolly has quite the imagination"


"I read the book in one sitting. Just wanted to know what happens... Great read!"