Insider Bonuses
Verifying...
Thanks for being an Insiders member! Here you can download all your bonuses. New content will be notified by email.
Shepherds: Awakening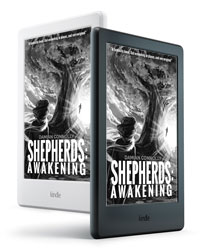 Shepherds: Awakening is my debut novel.
Aisling Shepherd finds herself in the fantastical world of Limbo, where anything is possible and the inhabitants are unaware that they're dead...and being fed on. Can she survive long enough to master her powers? Will she give up everything? Gut-wrenching, original fiction
Here's an excerpt of the first four chapters:
Shepherds is available on Amazon, both on Kindle and paperback (.com, .co.uk, world).
Reviews & contact
If you like what you read, then please leave a review - it helps more than you think. Even if you don't like it, leave a review :)
If you'd like to give me more in-depth feedback (I'm a big boy, so I'm looking for honest feedback, not just platitudes), then you can contact me via email, Twitter, or Facebook.
Thanks for reading!